Who are the main telephone operators in Belgium?
In Belgium, the mobile phone operators for professionals are Proximus, Orange, Voo, Destiny, Telenet & Base. (Base was acquired by Telenet in 2016).
You should know that there are only 3 operators who have their own network: Base/Telenet, Orange and Proximus. Voo and Destiny both use the Base/Telenet network.
Points to check when choosing the operator
In order to choose the operator that suits you best and the offer that is best suited to your needs, you must first of all know your usage profile :
- How many calls do you need?
- How many SMSs are you going to send?
- How much data do you intend to download?
- Do you intend to use your 4G and international SMS and calls?
- What is the budget you are prepared to put in?
We have distinguished 4 types of profile according to the use of your mobile phone: Light, Medium, Intense & Unlimited. We have listed and compared the best subscriptions for each type of profile.
The applicable rates below are all exclusive of VAT and apply to independent profiles.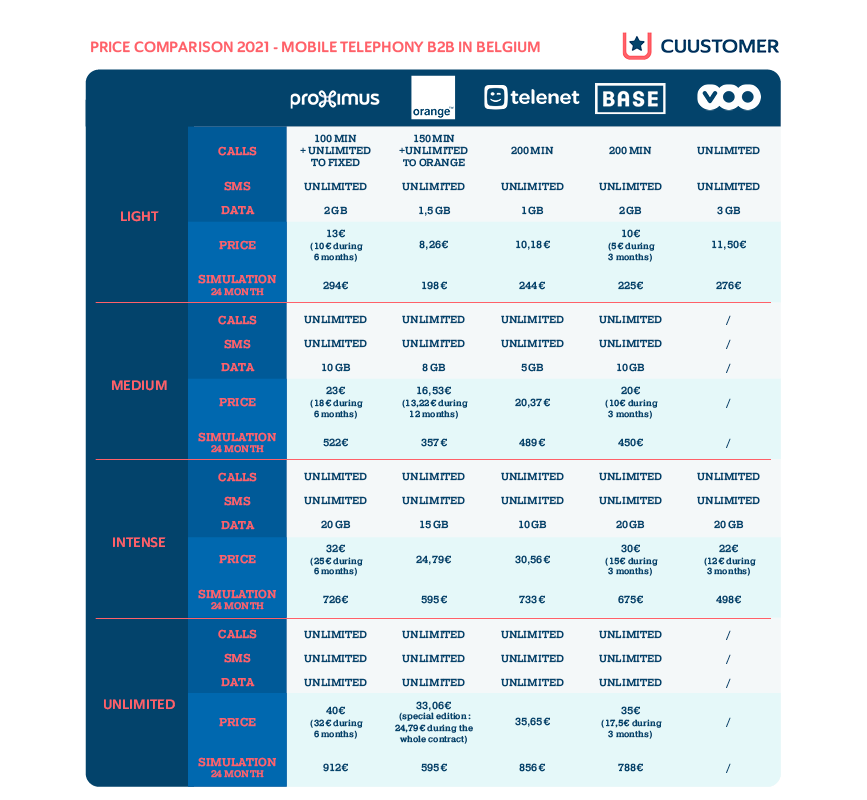 To carry out this comparison, we have used the public rates for self-employed people displayed on the websites of the 5 suppliers. Please note that additional discounts may apply. This is a basis for comparison, obviously depending on the number of subscriptions you have, you could have better conditions.
We did not include Destiny in the comparison because the basis of comparison was not the same as for the other providers. Indeed, the mobile phone pricing includes a fixed line.
Some interesting information
It should be noted that it is often much more interesting for operators to combine one or more mobile subscriptions with an Internet line or fixed-line telephone subscriptions. This will certainly save you money.
>> TO READ: Top 10 digital tools to reduce costs
Also, your telephone operator must tell you at least once a year on your bill which tariff plan would be the most advantageous for you among all those it offers.
For VSEs with less than 5 numbers, you are often considered as a private individual and you can change subscriptions whenever you like. On the contrary, if you have more than 5 issues, you must then ask for a personalised offer or you will get better rates but you will be obliged to respect a minimum 2-year contract.
>> TO READ: New company code in 2020: summary of the 4 legal forms in Belgium