Online reviews are very important for businesses. It is necessary to try to collect them regularly. Internet users and decision-makers are strongly influenced by reviews. They are essential for your e-reputation.
All companies would like to have only positive reviews but unfortunately it can happen that you receive a negative review and this is normal because a perfect company does not exist.

It may be tempting not to respond and ignore negative reviews but this would be a mistake because :
- A person who leaves a negative review may revise their review after a discussion with you;
- Your response will be read by the people looking for the negative reviews and may convince them that your company is trustworthy.

Several studies have shown that responses to negative reviews have a direct and positive impact on the businesses in question. >>READ ALSO: How to manage your online reputation ?

How to respond to a positive review?

Positive reviews are not threatening to your company's reputation so it is tempting not to respond to them. In fact, it's a chance to thank your customer. What's more, by responding to reviews that highlight your business, you encourage more positive reviews!
>>SEE ALSO: How to manage your online reputation?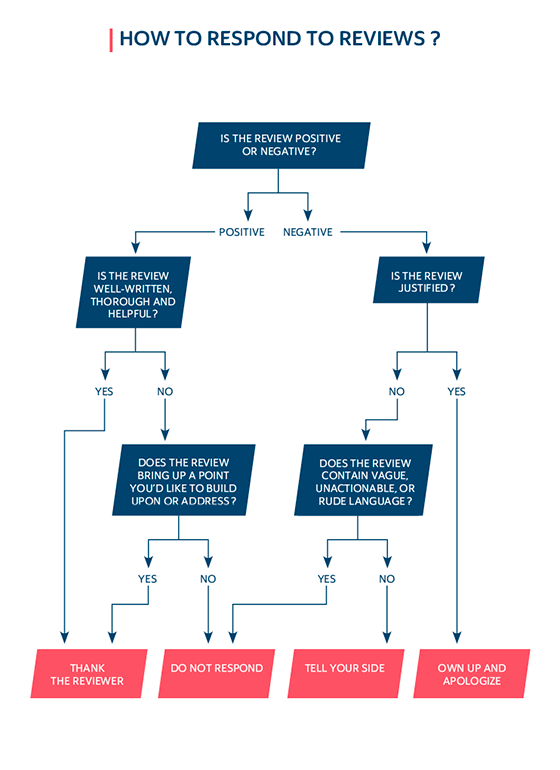 Source: G2.com
How to respond to a negative review in 7 steps

1. TAKE A STEP BACK

Some reviews can be hard to take, especially if they directly question your work. Keep in mind that your main objective is to get the customer to change their opinion to your advantage. To do this, you must not put them off too much.

2. RESPOND PUBLICLY

A public response serves to show your clients and future clients that you care about them and that you are attentive to their feedback. It also shows that you have nothing to hide and that you are open to discussion.

3. TAKE RESPONSIBILITY FOR YOUR MISTAKES

It is impossible to satisfy everyone, but the most important thing is how you respond to these mistakes. This determines how people perceive your brand.

4. ASK QUESTIONS IF THINGS ARE NOT CLEAR

If there are ever things that are inconsistent in the review or you want more information from the customer, don't hesitate to ask questions. This will start a healthy dialogue.

5. OFFER SOLUTIONS IF POSSIBLE

Customers who leave a negative review often expect to be offered a solution or measures to compensate for the problem they have encountered.

6. BE NEAT ABOUT YOUR SPELLING

According to a French study by Ipsos, more than 80% are shocked when they see a spelling mistake in a company's communication. So don't let spelling mistakes undermine your response to notices.

7. RESPOND IN A PERSONAL WAY

Customers who leave reviews need to feel cared about. You can do this by calling them by their first or last name, tailoring your response to their review and signing your review with your name and title.